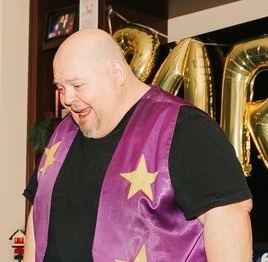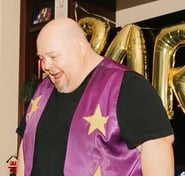 "If I could give Scott 100 stars out of 5, I would! He was fantastic! I booked him a few months out for my son's 8th birthday party knowing that he would probably be in high demand for the month of December. He was super responsive and easy to communicate and work with. He arrived at the party with perfect timing. His show was hilarious and beyond entertaining. The kids loved him and the grown ups may have loved him even more. It was almost an hour of non stop laughter! He played off the kids and their personalities perfectly. He is also so quick and efficient with the balloon animals. Everything was perfect and the party was a huge success, in large part thanks to Scott! My son can't stop talking about the awesome magician that came to his party! Thanks, Scott!"
"We had Doodad come and do a magic show and balloon creation for our daughter's 4th birthday party, and he performed for about 40+ children and their parents. He was exceptionally organized and prompt prior to the event and also arrived on time, set up efficiently and used the space well. He was a complete HIT among the children AND the adults. He is a combination of funny, engaging, entertaining, magical and cool. He was truly the hit from our party and we were impressed that he could capture 4 year olds and the adults at the same time, for a whole hour, with a fun magic show. Also, his balloon skills are incredible and he was super patient with the many kids we had. We will definitely use him again!."
"We hired Doodad Magic not only to do the magic at my goddaughters 7th Birthday Gala but also the face and body painting. Both entertainers were such a hit! The face painter brought a magic all her own transforming kids into unicorns, butterflies, and fairies as well as appeasing the adults who wanted Vegas Golden Knight logos on their arms. Doodad really brought the goods. There was a huge crowd of very hyped up kids that he was able to delight with his tricks. The laughs of delight were audible in every corner of the house. They helped make the Birthday a great success"
"We hired Doodad for my daughters 8th birthday party a couple weeks ago and she loved it!! He was reasonably priced and very professional. He calls the day before to confirm your party as well. His tricks were funny and I'm not sure if the kids had as good as a time as the grandparents had!! Good act and lots of fun for all. He also did balloon animals for all the kids after the show. I'd definitely recommend him for your next party. It's so fun!!"
"Mr. Doodad was great!! From the beginning, he was very professional and responded within a few hours each time I had a question. We communicated through email and he was very patient and informative. I decided to go with a magic show and face painting for my son's 1st year bday party. Let me just say, it was hilarious. He kept the kids AND adults entertained!! Everyone was laughing. It takes a special skill to hold the attention of kids, and Doodad did a great job doing that. He does have the birthday person come up and participate in his acts, but my son is too young, so his cousin went up to represent him. Lol. I will definitely recommend him and would love to have him again for another bday party when my son is older. The face paint artist was great and the kids were happy with their paintings. Overall, I'm very happy and satisfied with picking Mr. Doodad as the entertainment for the party. You won't regret it either. Two thumbs up!!"
"DooDad put a show on for our 2nd, 3rd and 4th grade students at our Elementary School. He was fantastic. The children had a great time. After that I had DooDad at my 5 year old granddaughter's birthday party. The children had so much fun and he made my granddaughter shine as the birthday girl. Parents enjoyed the show and I received a lot of compliments. Having a party any time soon invite Doodad you will not regret it he is awesome."
"Scott IS magic. Literally, and figuratively. We hired Doodad the Magician for our 5 year old's birthday party and it was the best decision we made. She had an incredible time, as did all the kids...the big ones and the little ones...oh, and the adults too. He's so good with kids. Funny, clever, magical. He brings his own props, sets up, and does exactly what he says he's going to do. Communication was great. Show was perfect, and price was fair. Don't hesitate... honestly. The kids (and adults) will be enamored. Thank you, Doodad!!"
"We had Scott from Doodad magic for my daughter's 6th birthday party. I highly recommend him to come to your event. He completely exceeded my expectations as an entertainer. He was funny and engaging, and the kids giggled and screamed of cheer and enthusiasm as he proceeded with his routine. They were completely engaged the whole time. I also recommend upgrading to balloon animals and face painting. It was money well spent. Just look at the kids faces.
"We found Doodad on yelp for my sons birthday party. He was great at communicating and planning for the day of the event. He called and confirmed everything prior to the event, and also called to confirm the night before. He came on time, and his show was amazing! He had the kids laughing and even had most of the adults laughing as well. He had great magic, jokes, and overall great! I would definitely recommend him for any party"
"Doodad is incredible! I had him perform for my son's 5th birthday and he was a superb fit for not only the kids in the crowd but also appealed to the adults in the crowd with his comedy and quick-witted magic. He was courteous, kind, and extremely responsive and we appreciated it all, especially since we were working with a tight schedule and logistical issues. Couldn't recommend him highly enough for any kids birthday party. By the way, it's been a few weeks and the kids are still talking about him! Appreciate the laughs, Doodad! Book him y'all!!"
"Doodad was the highlight of my daughter's recent birthday party. Beloved as much by the parents as the kiddos, his show was engaging, surprising, and full of heart and wit. Doodad has great rapport with young people, made my daughter feel like the star of the show, and, perhaps the best part was how easy he is to work with. He responds to calls quickly, takes the time to get to know your wants and desires so he can honor them, and on the day of the pretty he arrived early to set-up before guests even arrived. I wholeheartedly recommend Doodad as an entertainer for your Las Vegas magic or comedy needs."
"My mom found Doodad to help with our babys gender reveal, and he did wonderful! He is very friendly and easy going. The magic was fun and entertaining. He provided us with a great gender reveal to share with our friends and family. He made it personal with touches of the MN Vikings and owls (awesome balloon animals!!!). Highly recommend for whatever occasion you may be looking for."
"Doodad Magic was the entertainment for our kids Baptism after party. He was awesome. His props meshed well with the age of our the kids, and his jokes were hilarious to even the adults in the crowd. The show was a good mix of comedy, fun, silliness, and magic. He kept everyone engaged and had all interested up until the end of the show. The 'magic bags' for the kids are nice add-on, and the kids were doing their own magic tricks for hours after the show ended. I would recommend again. Thanks Doodad!"
"We had the most amazing magical birthday party with doodad Magic man. Scott has amazing energy knows exactly the right jokes for the right age group, involves all the kids, does awesome balloon animals. Like I said very energetic and bubbly and smiley and super super fun to be around ... I highly recommend you hire this man for your next birthday party... You will not be disappointed at all."
"I don't have enough positive things to say about Doodad and his magic show! We hired him for our four year olds birthday party and the kids absolutely loved his show. He was on time, hilarious, and was the highlight of the party. The kids couldn't stop laughing at his comedy and he even entertained the adults. His magic was great and everyone was in awe as he did his tricks. We definitely plan on having him back! Five stars!"
"If you're looking for great entertainment, don't think twice about it! I hired Doodad for my son when he was 5 and not only did he entertain the kids, but had the adults humored. Fast forward to 6 years later and we are celebrating his 11th birthday and he had everyone grinning, entrained and laughing. I would spend the additional $$$ for the balloons. Alo though they are tweens at 11 they still enjoyed it and it was a great touch."
"What a wonderful a show! We had seen this magic act before at another birthday party and my daughter just had to have him at hers. He also was able to bring Mrs. Claus to face paint (which she was fabulous) and he even made Santa appear at the end of our Christmas themed party. Easy to work with and all the kids were thrilled!!"
"Thanks for the awesome magic show Doodad! Our little ones loved it! Found Doodad on Facebook, he was very professional and had great communication leading up to our party. Would definitely "recommend" his services to anyone."
"The kids at my daughter's birthday were belly laughing at Doodad! He was professional, funny and his tricks were awesome for the kids and the adults watching! 20 out of 5 stars!!!"
"Great show. 20 kids laughed their hearts out for the whole show. He got here on time, set up in 10 minutes, and left the "show area" perfect. The kids were so happy, and a happy kid makes for a happy parent."
"Amazing Magician. He preformed at out elementary school for 2nd 3rd and 4th grade, every kid loved him. He exceeded expectations."
"Thank you so much for accommodating my sons Harry Potter theme party with your magic show! You did an amazing job!! My son and all his friends had a wonderful time!!"
"I loved his show. My girls are still imitating how he did his magic. Also loved the face painting, great quality on paint."
"He kept everyone... kids and adults super entertained ... He was amazing."
"We hired DooDad Magic for my son's birthday party. They did agreat job and all kids enjoyed the show!"